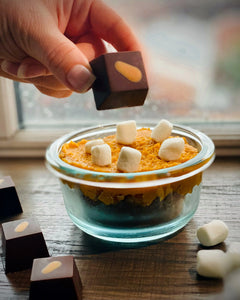 Chocolate Truffle Gift Box - 5pc
-Sweet potato chocolate ganache blended with a touch of nutmeg and vanilla resting on a toasted marshmallow pillow. Experience the holidays in a bite of chocolate.
Each Sweet Mellow box includes:
5: Sweet Potato Chocolate Truffles
Size: 6.875" x 1.75" x 1.25" & Weight: 2.25 oz
Care: Created with real cream, butter, and other ephemeral ingredients; therefore best when placed at 60-65F. When stored in refrigerator, let chocolates breathe at room temperature for at least 20 minutes to release flavors and maximize taste.
Consumption: Freshness and quality are priorities. Like in France, the croissants are made and enjoyed in the same day. Please enjoy truffles within 2 weeks as these delicacies are perishable.                                             
Allergens: Gluten Free. Contains milk.