Testimonials
Love the chocolate! It's great with our dry aged duck and mole cocktails. 

Michelin Chef Marc Forgione
Michelin Chef Dominique Crenn
Only sometimes do I say good, and this chocolate is very good. 

Michelin Chef Hiroki Odo
The Story
Women owned and operated, Milène Jardine Chocolatier offers bespoke, international chocolate inspired by her personal mantra: Live by Love. After exploring over 35 countries and meeting inspirational people every step of the way, she believes in the healing power of food, of connection, and of love. The vision is to celebrate the beauty of diversity through chocolate. Each contains the finest natural ingredients: ethically sourced dark chocolate along with exotic herbs and spices that heal and soothe the body.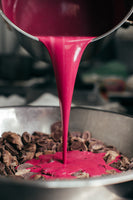 Traceability & Transparency
All our chocolates are meticulously handcrafted in small batches at our facility in Long Island City, NY. As a female-owned business, our team primarily consists of talented women. Our cacao partners hold B-Corp Certifications, ensuring their adherence to stringent standards of performance, accountability, and transparency in both social and environmental aspects.The delectable flavors of our chocolates are carefully blended using real fruits, nuts, herbs, and spices, without the addition of any preservatives. In our commitment to safeguarding the planet and combating climate change, we have joined forces with Pachama. Together, we work towards reducing our carbon footprint by precisely measuring and offsetting the carbon impact of each shipment through forest protection initiatives. With the increasing popularity of home deliveries, we are delighted to contribute our part and witness the growth of new trees being planted.
Shop Local