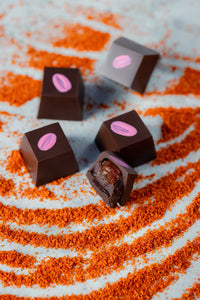 Chocolate Truffle Gift Box - 5pc
-Savor the warm weather with our sweet and spicy Guava Chili truffles! Inspired by Peruvian culture, its sacred lands and vast culture of biodiversity. Fresh guava paste is used to line the truffle shells, and then chili ganache is added. The hot cream is flavored with spicy chili and emulsified into single-origin 70% Peruvian chocolate and butter. The result is three textures inside this confection: a crisp chocolate shell, chewy and sweet guava, with contrasting creamy and hot ganache.
Each Guava Chili box includes:
5: Guava Chili Chocolate Truffles (Peru)
Size: 6.875" x 1.75" x 1.25" & Weight: 2.25 oz
Care: Created with real cream, butter, and other ephemeral ingredients; therefore best when placed at 60-65F. When stored in refrigerator, let chocolates breathe at room temperature for at least 20 minutes to release flavors and maximize taste.
Consumption: Freshness and quality are priorities. Like in France, the croissants are made and enjoyed in the same day. Please enjoy truffles within 2 weeks as these delicacies are perishable.                                             
Allergens: Gluten Free. Contains milk and soy.