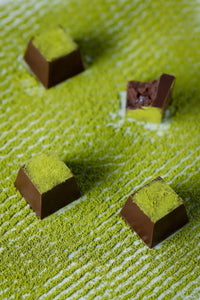 Chocolate Truffle Gift Box - 5pc
This "Shiso Green Tea Chocolate Truffle Edition" celebrates the return of Autumn, the time when the shiso plant flowers and starts to seed. The truffle's chocolate ganache has bright and vibrant notes from the shiso, grounded with green tea then dusted with earthy matcha powder. The creamy interior is contrasted with a thin, crisp dark chocolate shell.
Each chocolate box includes:
3 Shiso Green Tea (Korea)
2 Dark Chocolate (France)
Size: 6.875" x 1.75" x 1.25" & Weight: 2.25 oz
Care: Created with real cream, butter, and other ephemeral ingredients; therefore best when placed at 60-65F. When stored in refrigerator, let chocolates breath at room temperature for at least 20 minutes to release flavors and maximize taste.
Consumption: Freshness and quality are priorities. Like in France, the croissants are made and enjoyed in the same day. Please enjoy truffles within 2 weeks as these delicacies are perishable.                                             
Allergens: Gluten Free. Contains Milk.