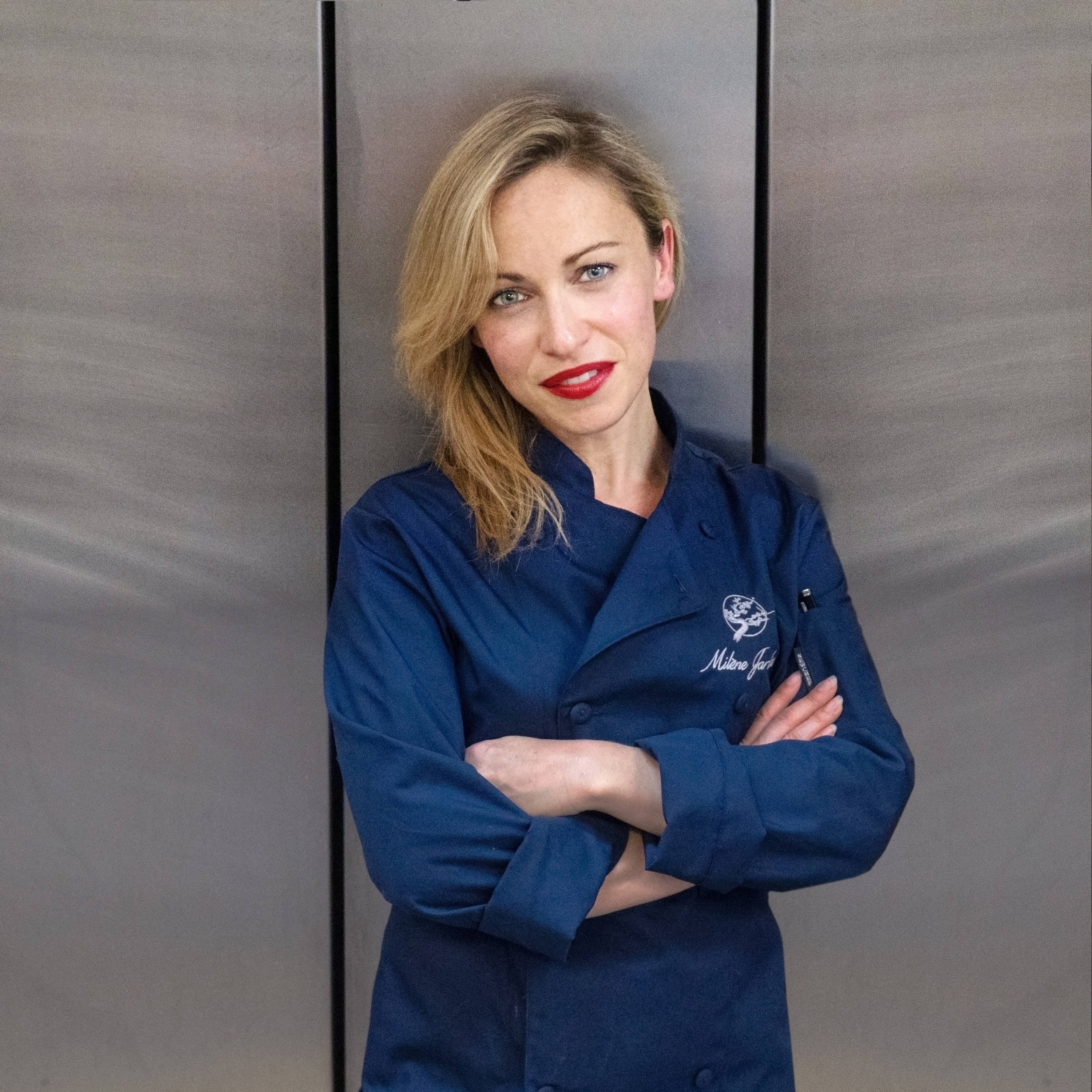 Milène's passion for creating desserts started as early as she could pick up a cookbook and hand mix sugar into butter. Her parents added the long list of baking ingredients on their grocery visits as they felt it was a positive creative outlet. The sweets quickly became favorites at family celebrations and holidays. After college, Milène grew her love of desserts into a side project by making chocolate favors, platters, and centerpieces for weddings, parties, and art exhibitions. At the same time, her business skills were developed through her extensive international travel and intense training at Macy's renowned Private Label Design House. After 12 years, Milène left Macy's as Product Director due to the company's 2016 consolidation. Through this major life transition, she found the courage to return to her childhood passion and build her own brand. Milène Jardine Chocolatier aligns with her lifelong fervor for confections and travel.
Milène Jardine Chocolatier creates high quality, artisanal chocolates made locally in New York City. Each flavor tells a story and takes the consumer on a journey to a different country to experience a new flavor. The ingredients utilized are fresh with natural health benefits to offer a dessert that indulges and heals. The styling embodies a modern elegance with each confection made to harmonize a graceful release of flavor and texture, wrapped in modern yet sophisticated packaging. The hope is to spread happiness, celebrate diversity, and inspire a world to "Live by Love" with each chocolate.
Since launching in November 2016, Milène Jardine Chocolatier is thrilled to service elite businesses such as Roger Vivier, Google and Fly Victor Private Jets and enjoyed by celebrities like Sting and Warren Buffett. The chocolates have been featured at Le Cirque Events and enjoyed by the Serbian Royal Family, Crown Princess and Prince, Katherine and Alexander. From repeat orders, Huffington Post Press, and letters of testimonial from influential individuals such as Hillary Clinton, the response has been extremely positive. Milène values giving back to the community and sharing her experience as a female entrepreneur to encourage others to follow their passions in life. Growing up, she was not familiar with the opportunities around owning a small business. From podcasts to interviews and school visits, she is eager to share this knowledge and support more women in business. Through sponsorship opportunities with the Cancer Society's Taste of Hope, Lifeline Organization, and Green School Alliance, Milène Jardine Chocolatier believes acts of kindness help create a better society.
Chocolatier Milene Jardin teaches students as they intently listen about the ins and outs of running a business. She also shared a sample of her chocolate truffles with a lucky student at the Queens High School for the Sciences' second annual career day on March 29.
Milène Jardine Chocolatier offers more than the average chocolate truffle—her delicious, artisanal treats were inspired by the people she met after exploring 35 countries.
"Switching from a corporate fashion career to starting a chocolate business has been one of the most challenging and rewarding experiences of my life. After having a steady source of income and established reputation at my previous employer of 12 years, I was also filled with fear of the unknown journey ahead of me as an entrepreneur,"' says Milène.
Milène surrounded herself with a network of small business owners to support her after she launched her self-funded start-up, and she continues to be pleasantly surprised by all the support she's received through small business resources and collaboration from other entrepreneurs.
Everything started with a simple like on Instagram this spring. The picture was one of the first I posted about my upcoming adventure to New York. I browsed through the profile the like came from and something about it intrigued me enough to follow it. Surprisingly, I soon got a message that thanked me for the like. And before I knew it, I was exploring the website of Milène Jardine Chocolatier, getting familiar with the magical world of chocolate truffles.
Time passed and my trip to New York grew closer. I happened to see a picture of Milène on Instagram, talking to teens about her jump from the corporate world into making artisanal chocolates. That moment sparked an idea in my head: what if I interviewed inspirational successful women who have taken the brave jump to chase their dreams in New York? So, in the first part of the series, we'll get to know Milène and the story behind her inspiring chocolate business.
Email Us
info@milenejardine.com