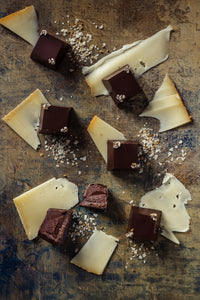 Chocolate Truffle Gift Box - 5pc
The ultimate cheese and chocolate pairing in one delightful bite with our partner Cheese Grotto! It starts by melting Reading Raclette cheese into fresh cream. The cheese-infused ganache is packaged inside a crisp, dark chocolate shell and finished with citrus bourbon sea salt (gluten-free). 
Each Raclette Cheese box includes:
3 Raclette: Fresh Fig & Pine Nut Chocolate Truffles (Switzerland)
2 Puriste: Dark Chocolate Truffles (France)
Size: 6.875" x 1.75" x 1.25" & Weight: 2.25 oz
Care: Created with real cream, butter, and other ephemeral ingredients; therefore best when placed at 60-65F. When stored in refrigerator, let chocolates breathe at room temperature for at least 20 minutes to release flavors and maximize taste.
Consumption: Freshness and quality are priorities. Like in France, the croissants are made and enjoyed in the same day. Please enjoy truffles within 2 weeks as these delicacies are perishable.                                             
Allergens: Gluten Free. Contains milk.