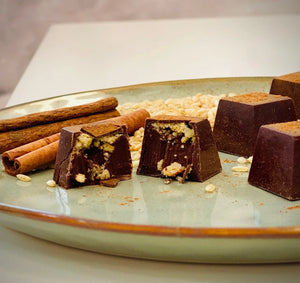 Chocolate Truffle Gift Box - 5pc
- Inspired by the classic Mexican drink, each truffle is filled with rice, cinnamon, and vanilla in a dark chocolate filling. 
Each Summer box includes:
3 Horchata Momma: Rice, Cinnamon & Vanilla Chocolate Truffles (Mexico)
2 Puriste: Dark Chocolate Truffles (France)
Size: 6.875" x 1.75" x 1.25" & Weight: 2.25 oz
Care: Created with real cream, butter, and other ephemeral ingredients; therefore best when placed at 60-65F. When stored in refrigerator, let chocolates breathe at room temperature for at least 20 minutes to release flavors and maximize taste.
Consumption: Freshness and quality are priorities. Like in France, the croissants are made and enjoyed in the same day. Please enjoy truffles within 2 weeks as these delicacies are perishable.                                             
Allergens: Gluten Free. Contains milk.