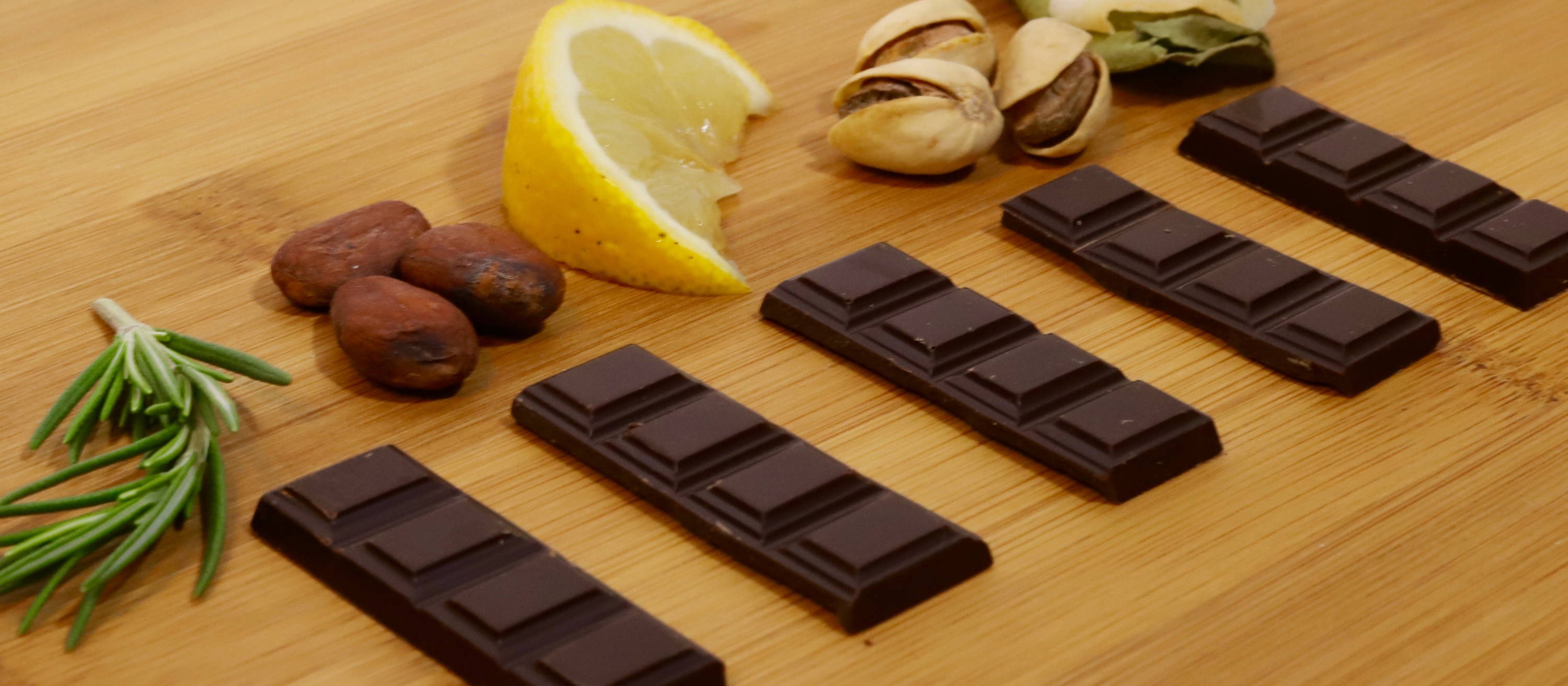 New International Chocolate Bars are made with ingredients from around the world including lemons from Sicily and cacao beans from Peru and Ecuador. The use of real fruits, nuts, and herbs create a refreshing tasting experience. With high quality 70% dark chocolate and freshly sourced ingredients, the result is an indulgent and nutritious bar. With each flavor telling a story about a different culture, the vision is to celebrate diversity through chocolate.
---
FLAVORS
Sicilian Salted Lemon - Refreshing organic lemons from the island of Sicily mingle with sea salt from its fresh shores to create salted sour notes in this unique flavor. Pair with dry, citrus white wine like Emile Balland, Les Buy Sancerre (2016) and Raw Goat Milk Cheese. Tart notes found in the lemon, wine and goat cheese create a refreshing and crisp flavor profile.
Toasted Coconut & Kaffir Lime Leaf - Journey to Thailand with the flavors of warm coconut blended with the unique citrus and subtle floral notes of kaffir lime leaves. Pair with a spicy Tempranillo like MOG Selections, Ñok Crianza (2015) and Tallgrass Reserve Cheese. The toasted coconut complements the cheese's buttery and roasted, nut notes while the harmonious wine balances the spices in the chocolate.
Rosemary - Native to the Mediterranean, the earthy flavor of rosemary balances the sweetness of the chocolate to uplift and intrigue your senses. Pair with Tap 357 Canadian Maple Rye Whisky and Bayley Hazen Blue Cheese. The sweet rye opens up the savory flavors in the chocolate, while the rosemary brings out the fruity and woody aromas in the cheese.
Raw Pistachio - The rich and nutty flavor of pistachios are reminiscent of Milène's childhood trips to Paris, where she'd feast her eyes and indulge in pastel green pastries like pistachio macarons and cream-filled éclairs. Pair with Ballantine's Scotch Whiskey and a Medium Aged Gouda. The rich and creamy chocolate levels the acidity in the scotch with the nutty elements in the chocolate and cheese creating a beautiful harmony.
Dark Chocolate - Made with fruity Peruvian beans and toasty notes from Ecuador's Cacao Arriba the blend leaves you with a balanced taste of dried fruit and sweet spices. Pair with a delicate Bordeaux like Chateau Viaud-Laland, Lalande de Pomerol (2014) and Triple Cream Brie. The rich and creamy texture of the cheese paired with the dark chocolate, and long finish of the Bordeaux make an indulgent combination.
---
Offered in a chocolate bar library and bar bundles, each is a gift for your senses. Enjoy the print on each packaging drawn by Japanese Artist
Akiko Fukuda.
Smell the natural herbs, feel the thin texture of the bar, snap off a piece, and let the chocolate melt on your tongue to release the arousing flavors.
---